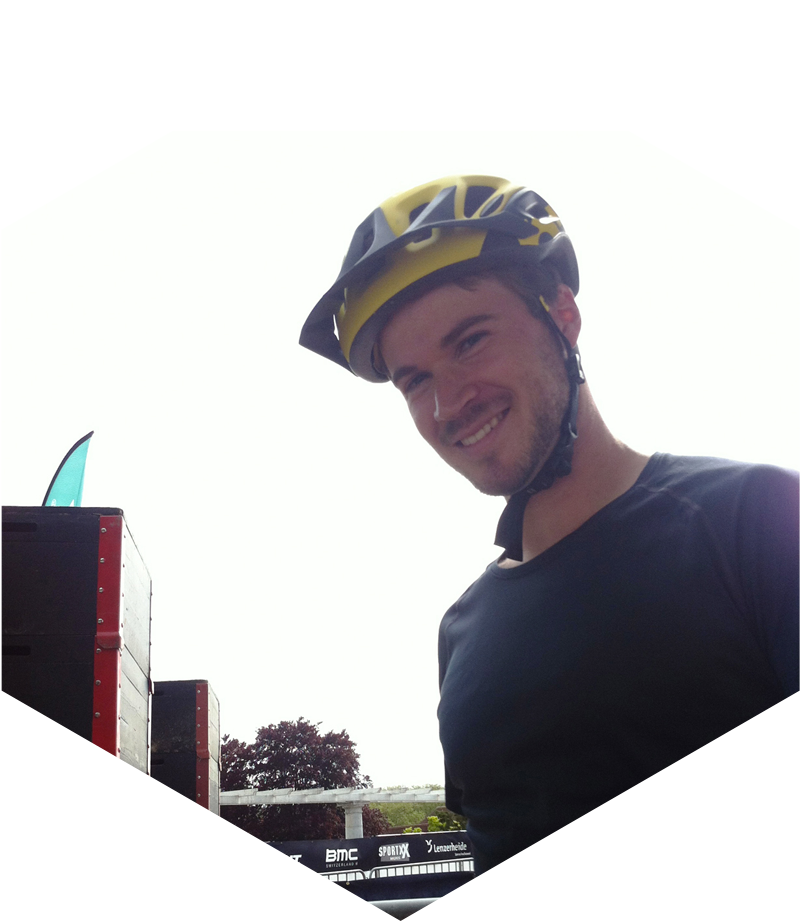 Jérôme Chapuis
Trials rider & founder
Jérôme is a professional and one of the most successful trials rider in Switzerland. He takes part in national and international competitions and holds more than 125'000 views on Youtube. Several times in the Top 10 World Ranking, he was awarded "Athlete of the Year" by the l'ACCV in 2011 for his Swiss Champion title in the elite category the same year.
Ramdam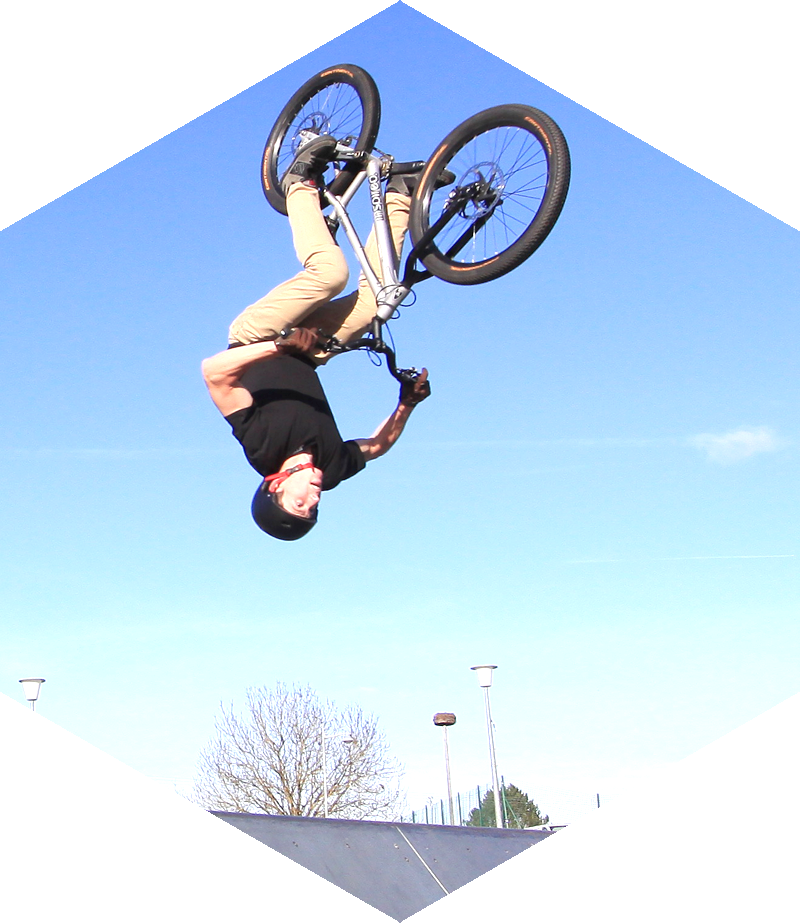 Jimmy Ertzer
Street trials rider
After several years of trials riding, both in bike and motorcycle, Jimmy decided to combine tricks in his riding to have more fun on his bike. His unique style and his amazing skills in the air brings him to ride street trials contests and perform shows. Backflip is one of Jimmy's favourite tricks.
Ramdam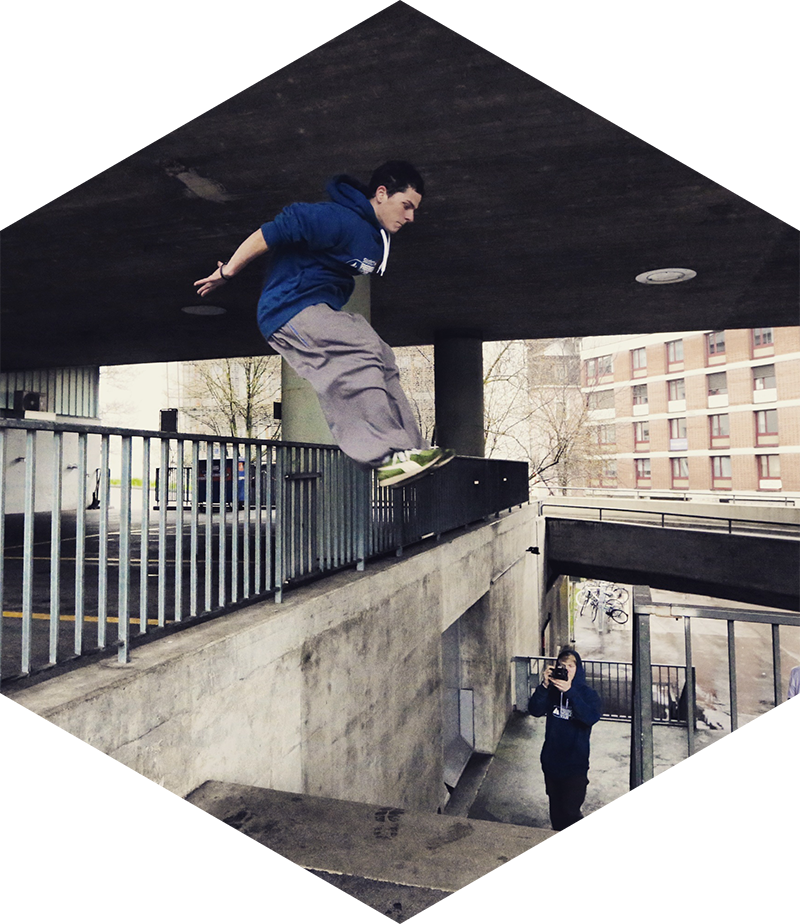 Kevin Crupi
Parkour athlete
Kevin is a professional stuntman at Xtrem Factory and a Freerun & Parkour teacher at the l'ELAA. He started performing stunts at the age of 14 and he now competes every year at the "freestyle des rues" in Strasbourg. Kevin travels the world to improve his skills and joined the team in June 2016.
Ramdam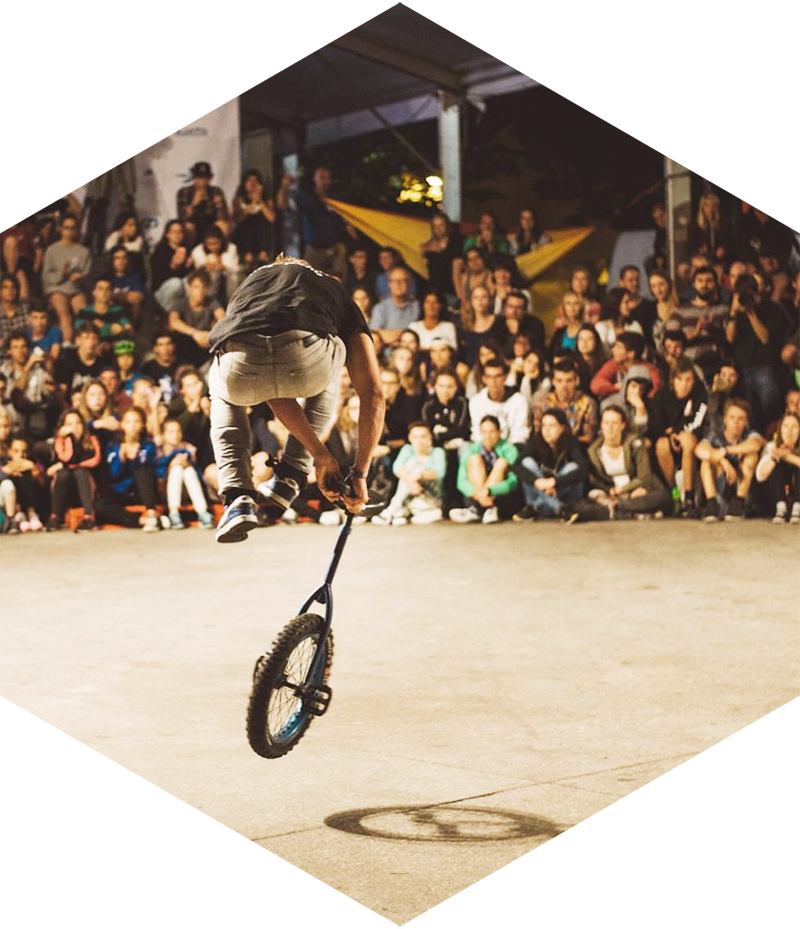 Pierre Sturny
Unicycle Trial & Flat rider
Pierre is one of the most successful and award-winning unicyclist in Switzerland and in the World. With his recent double victory in the European Championship (Flat & Trial), he is now regarded as a master in his discipline. The shows he can provide in front of a crowd are absolutely breathtaking.
Ramdam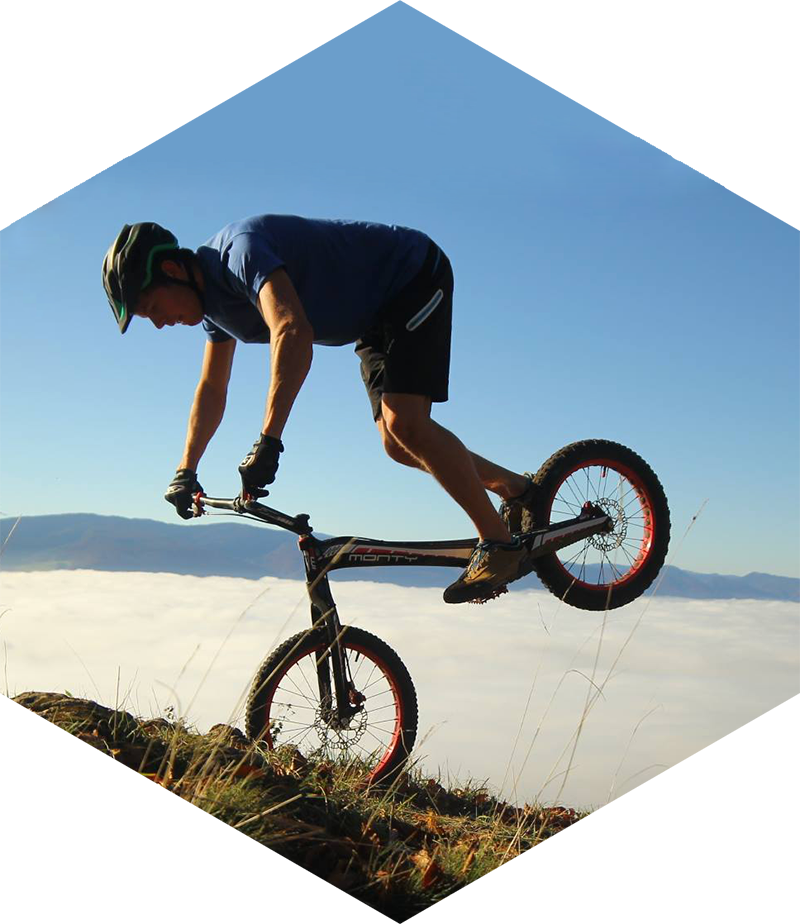 Loïc Vuillème
Trials rider
Loïc is a semi-professional trials rider from the north of Switzerland. He competes in national and international competitions and he loves being in the great outdoors. This showman likes to perform extreme stunts and to be part of new adventures of all kind.
Ramdam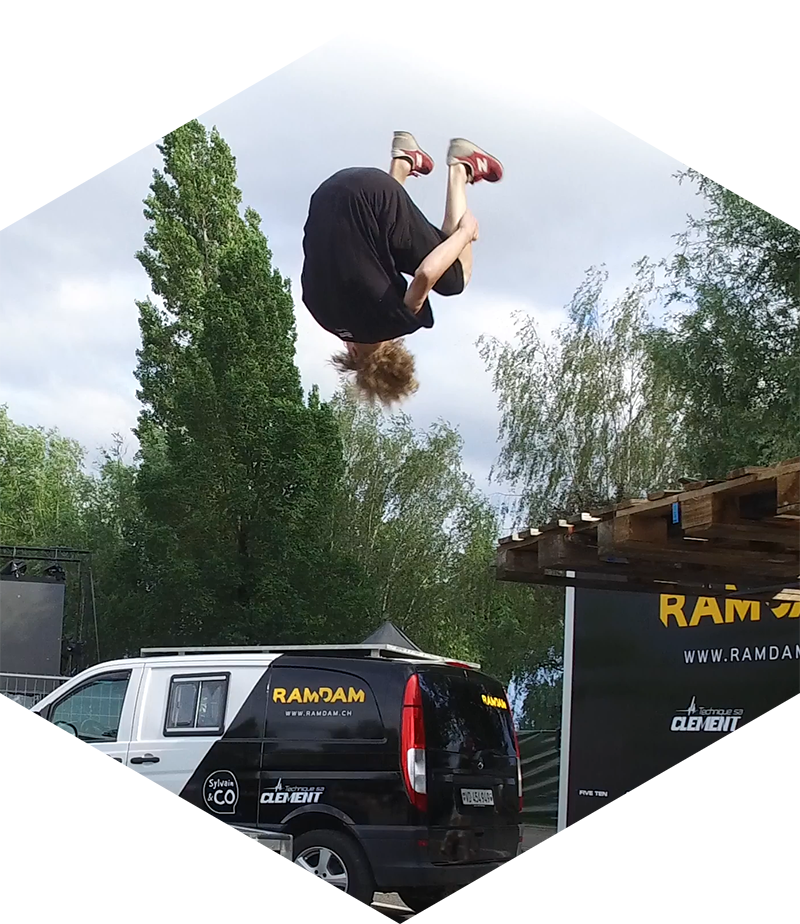 Caryl Cordt-Moller
Parkour athlete
At 16 years old, Caryl is known as one of the most talented and promising Parkour and Freerun athlete of his generation. He is part of the "Xtrem Move" team together with Kevin with which he trains regularily.
Ramdam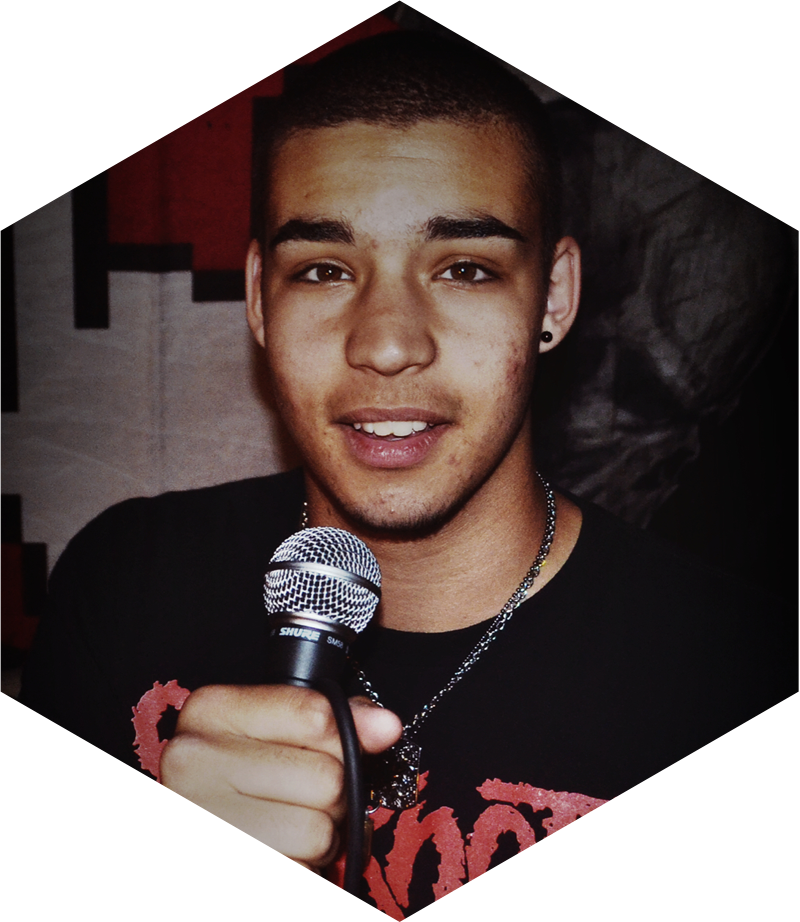 Bryan Christe
Speaker
Bryan is our rock-band singer and MC, always pushing the crowds and brining the noise to our shows. With his experience as a singer and musician, Bryan is not only making noise but he's giving the mood, energy, and dynamism to the event and is definitely an essential part of the show. Rock on !
Ramdam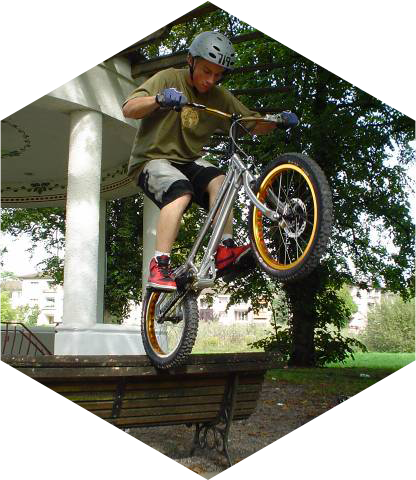 Robin Chapuis
Trials rider
Robin has competed a number of years at a high level in Switzerland and he took part in several World Cups and World Championships during his international career. He's now focusing his energy into trial shows, sharing his passion with people and interacting with the crowd.
Ramdam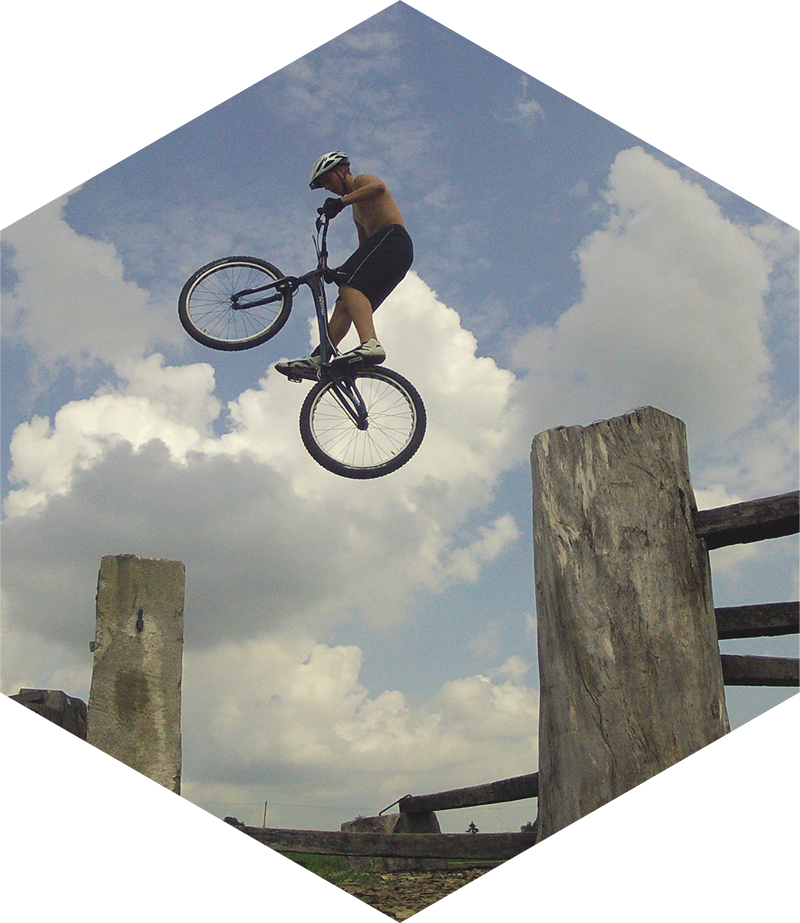 Steve Jordan
Trials rider
Steve is an accomplished trials rider competing in swiss and international competitions. He is one of the most promising athlete in the trials scene in Switzerland and he loves performing shows within our team.
Ramdam
Skills
Our shows mixes the incredible control, balance and power of different sports. Our athletes are selected among the best in Switzerland and around the World to provide a great show with a high level of performance. Our shows interact perfecly with crowds while being spectacular. We're performing in front of people for years and we've travelled a lot to perform our shows, always with great enjoyment.
Material & security
We own a van and a trailer, both with a platform rooftop to ride or jump on top of. We also have solid structures such as metal platforms, wood-metal elements, boxes, jumps, pallets and we are able to find out more elements depending of the needs of your event.
Regarding security, we have a perimeter security gate in order to define the show area. Just let us know what you need.
Area
We are very flexible regarding the area and we can adapt our services in almost every situation. In order to perform a good show, we need a minimum of around 4m x 4m. It can vary a lot depending on the area you can provide and depending on the show you want us to do. Most of the time, we use a surface area of 10m x 10m / 20m x 20m. This is just to give you a general idea of what we need. Contact us for further information.
Athletes & disciplines
Ramdam's athletes are from several sports disciplines. We like to be together and we like to mix disciplines, it's good for us and the audience love it. Our main disciplines are: trials biking, BMX flatland, freerunning/parkour, dirt jump, skateboarding, moto trials and, last but not least, freestyle motocross. Let us know your choice.
Audio & speaker
Our sound system is able to audio cover our shows together with a wireless micro and with music. For the music, we have our playlists but we can also take yours. We can provide the electricity with a generator if needed but most of the time we prefer taking the electricity directly from your event.
We can bring our commentators with us. By including our MC to your event, you will bring the right informations, the right mood and a high-level of energy to your audience.
Duration
Our shows can vary depending of what you want and depending of how many athletes you want. But we like a show to be intense and dynamic so we generally perform for around 10-30 minutes for a show. We can perform several shows a day of course.